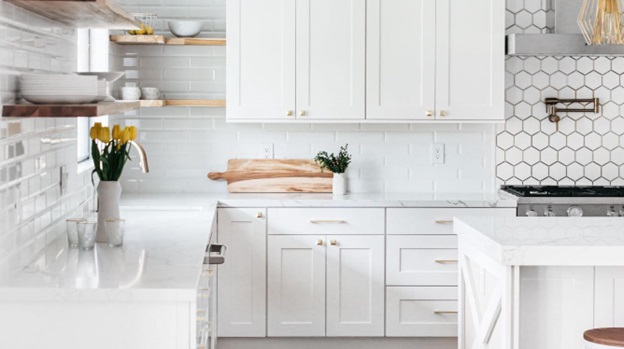 White Shaker Style: Sleek and timeless, white shaker cabinets provide a universal base for every kitchen design.
Natural Wood: Warm up your kitchen cabinets with natural wood cabinets in shades like oak, cherry, or walnut.
Two-Toned: Mix and match different cabinet colors for a unique look, like a classic black and white combination.
Bold Color: Make a statement with cabinets in a bold color like red, blue, or green.
Matte Finish: A modern touch is to go with a matte finish on your cabinets instead of a glossy one.
Mixed Materials: Combine wood, glass, and metal elements for a more eclectic look.
Rustic Charm: Add some character to your kitchen with rustic-style cabinetry featuring distressed wood and hardware.
Hidden Storage: Opt for cabinets with built-in storage options like pull-out pantry shelves, spice racks, and more.
Open Shelving: Open shelves can make your kitchen feel more spacious and allow you to showcase your favorite dishes and decor items.
Smart Storage: Invest in kitchen cabinet that maximize storage space with clever design features, such as deep drawers, lazy Susans, and corner organizers.
Ways to Improve KITCHEN CABINETS
Here are some ways to improve kitchen cabinets:
Refinishing or Painting – You can change the look of your cabinets by giving them a fresh coat of paint or a new stain.
Upgrading Hardware – Replacing old hardware with new handles, knobs, or hinges can instantly update the look of your cabinets.
Adding Crown Molding – This can add a touch of elegance to your kitchen cabinets and make them look like custom ones.
Installing Glass Doors – By introducing glass doors then solid ones can create an open and airy feel, and also make your dishes and glassware more visible.
Adding Pull-Out Drawers – Pull-out drawers can make it easier to find items that are stored in the back of your cabinets, improving the functionality of your kitchen.
Installing Lazy Susans – Lazy Susans can help you reach items stored in the corner cabinets more easily.
Adding Lights – Under-cabinet lighting can brighten up your workspace and make it easier to see what you're doing.
Remember, the key to improving your kitchen cabinets is to make them functional, stylish, and in line with the overall design of your kitchen.
Rules about purchasing KITCHEN CABINETS
Here are some general tips and guidelines that can help you make an informed decision when purchasing kitchen cabinets include:
Measure your space accurately to ensure that you purchase cabinets that fit properly.
Determine your budget and the type of cabinets that can meet your budget range (e.g., custom-made, semi-custom, or stock cabinets).
Consider the style and material of the cabinets that you prefer (e.g., wooden, laminate, metal, etc.).
Look for cabinets with features that meet your functional needs, such as adjustable shelves, soft-close hinges, and built-in organizers.
Check the warranty and return policy offered by the manufacturer or seller.
Consider the delivery and installation process and any associated costs.
Research the reputation and customer feedback for the manufacturer or seller that you are considering.